Lately, we've been channeling our inner Max from Where the Wild Things Are and bringing a little Wild Rumpus to our strategic planning sessions, helping our clients stare down the wild things (change) with their terrible roars (constant pivots) and claws (reduced interaction) and teeth (is everything online now?!). (Read more about how to add some Wild Rumpus to your next strategic planning session here.)
We recently helped Semester at Sea go beyond "business as usual" and take a voyage to the future as they created their new strategic plan.
THE CHALLENGE: The Pandemic Brought Travel to a Halt
Semester at Sea (SAS) has been taking students on unforgettable voyages since 1963. Over 70,000 voyagers have made the world their classroom, traveling to 223 unique ports of call in 114 countries. After the COVID-19 pandemic forced SAS to cut short or cancel all of its voyages in 2020 and 2021, it needed a new strategic plan that would stabilize the organization and ensure resilience and sustainability for the future.
The question on the table: How do we adapt in the future we don't yet know?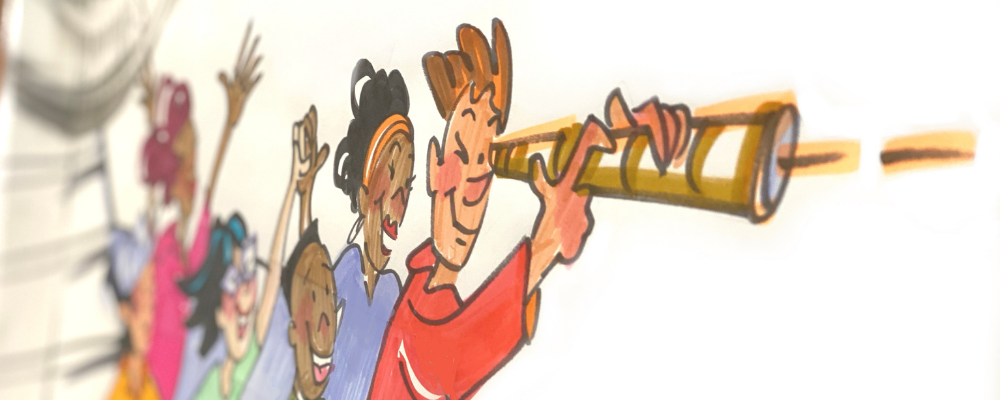 THE SOLUTION: A New, Future-Informed Massive Transformative Purpose
IDEA360 teamed up with Entrellis, a consulting firm, to help Semester at Sea visualize the future and create a massive transformative purpose (MTP) to propel the organization's strategy for the next three years (Check out what Entrellis had to say about the experience here.) After some deep background research and a thorough analysis of findings, we gathered in person with the 40-person SAS team to shape the foundational elements of a new approach.
We focused on creating one unifying MTP and four big strategic bets because Semester at Sea wanted a big change. We helped them hold to that desire through the tools and processes we used, even when they were tempted to go back to more tactical approaches.
Our approach included 3 key elements:
Humanizing the room — We invited participants to show up as whole human beings with ideas and dreams and struggles and curiosities. The organization needs full participation and in this remote and virtual environment, we need people to connect, engage, and align when they come back together.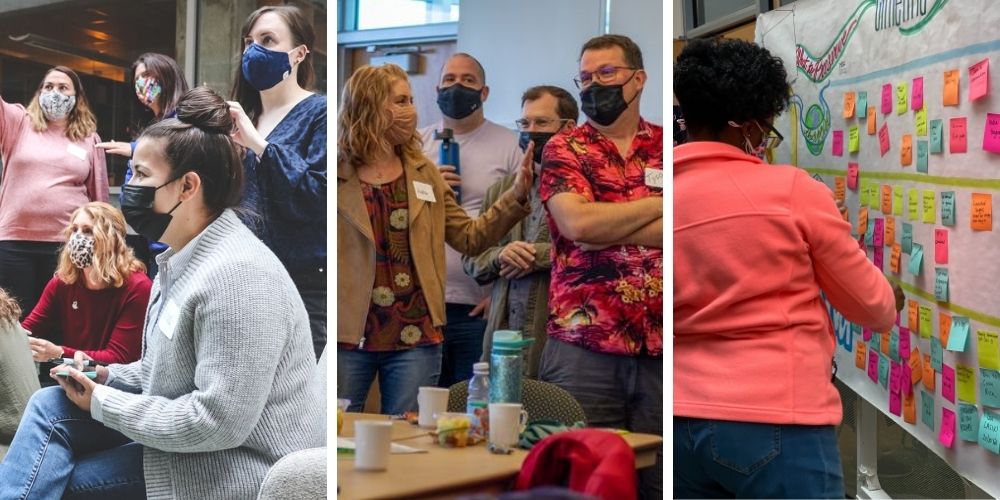 Element in Action: We used custom-designed graphic facilitation tools to allow SAS staff to process all that they've been through as an organization and as individuals since March 2020, and to capture their hopes, concerns, and curiosities for the strategic planning journey.
2. Journeying to the Future — We enabled the team to discover the myriad possibilities for SAS's future and hone in on the strategic choices that will facilitate the future they want.



Element in Action: We used a unique process for visual and narrative future casting that took participants to "utopian" and "dystopian" futures, setting the stage for true breakthrough thinking as they confronted potential risks, threats, and opportunities.
3. Designing Meetings as Experiences — A great meeting goes beyond a great Powerpoint. We amplified the team's engagement and creativity with interactive experiences and ample opportunities for collaborative problem-solving and decision-making.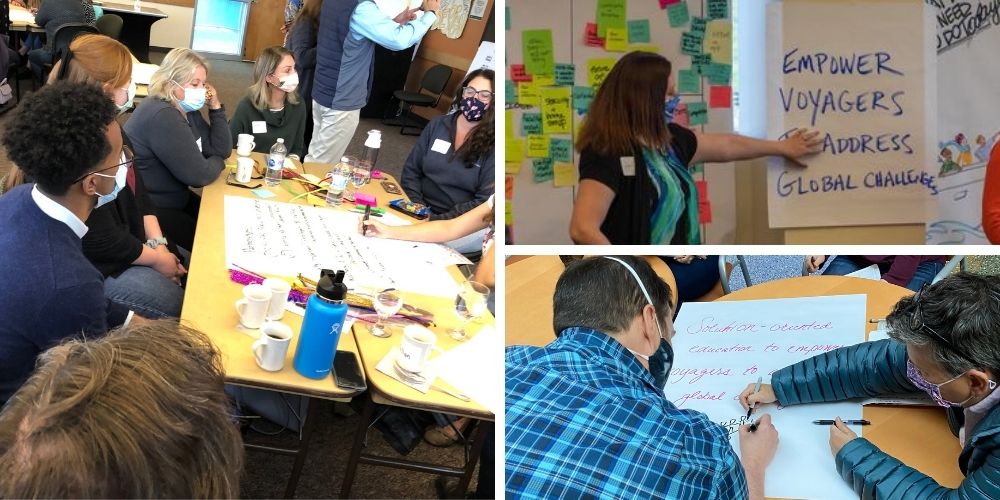 Element in Action: In order to land on a massive transformative purpose that the entire team could align with, we needed every participant to engage with the process. We used a combination of small group collaboration, dot-voting, whole group discussion, voting with your feet, and borrow-a-word facilitation to prototype, test, and ultimately agree on a working MTP.
THE OUTCOME: A Future-Ready Organization with a New, Inspiring Purpose
In just two 4-hour sessions, the SAS team was able to advance their strategic planning journey by leaps and bounds, rallying around an inspiring purpose and transitioning from tactical, incremental thinking to an expansive, exponential, and future-ready mindset.
They left the meeting with: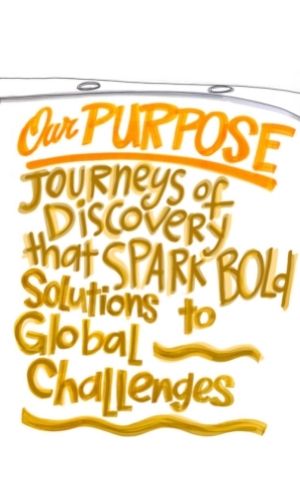 A new massive transformative purpose
Their old mission: To educate individuals with the global understanding necessary to address the challenges of our interdependent world. With the world as our classroom, our programs integrate multiple-country study, interdisciplinary coursework, and experiential learning for meaningful engagement in the global community.
Their new MTP: Journeys of discovery that spark bold solutions to global challenges.
A clear vision of the future that enables them to design their programs to meet new, emerging needs
4 clear strategic priorities and the big bets they're making inside each priority
An understanding of the strategic choices they'll need to make in the months and years to come.
Scott Marshall, President, and CEO of Semester at Sea shared afterward: "Unambiguously, the two sessions were collectively a big win. For everyone involved. The sessions were very well organized and the pre-prepared visual templates, group work activities, and various visual media were interconnected and forward-moving."