At IDEA360, we are pioneering a new field of
VISUAL FUTURES.  
It's the cultivated practice of enabling discovery to help individuals and organizations access the future in a new and meaningful way.  We believe that by seeing the future, feeling it, and telling a story around it, we gain choice and agency to design better futures. 

Welcome to The Epiphany Lab
At IDEA360, we've created The Epiphany Lab to help people imagine the future

from

the future by answering the question "What's

after

'what's next'?"  

Most organizations don't know how to unlock their power to see and imagine the future. Without this ability, they miss what demands attention and where the focus needs to be. 
The Epiphany Lab brings brilliant people together in a center without walls to explore different possible futures. Through our unique exploratory process, we help launch organizations light years ahead of everyone else by showing them how to anticipate future opportunities, identify challenges, examine strategies, and position themselves to adapt to change.
IDEA360 offers consulting and immersive experiences that help leaders who want to discover new and strategic ways of working – but don't know how to do it. We enable your people to imagine, collaborate and design better futures. They will feel a deeper connection to what's possible, will be able to visualize what they imagine and be propelled to act. Our services are designed for those who are seeking new ways to problem-solve, build something innovative, better understand their organization, and ask questions in new and creative ways.
We create an environment that fuels exploration and is designed for moments of surprise and impact. In ways you haven't imagined, you'll move from the business of today to the emerging business of tomorrow; all with the intention of developing an organization that is resilient, flexible, and adaptive. 
Visual Futures is integrated into all our work, but you'll see it most intensely in our new Epiphany Lab.

A creative space for strategic ideation, designed to enable discovery and reveal answers to your biggest, hairiest, most ambiguous questions using strategic storytelling, visualization, and experiential tools.
Solve wicked problems with empathy, creativity, and imagination.
Get More from Your Strategic Planning.
        The Epiphany Lab aligns with business objectives and event objectives. 
Deliver Return on Experience
        Unlike traditional workshop activities, the Epiphany Lab sparks big, innovative, future-focused ideas that drive real business impact in a meaningful way.  
         The Epiphany Lab is a ready-to-go, BIG IDEA-generating activity for organizations and corporate meetings and events. 
Delivered in-person or virtually

Customizable for your event's needs and priorities

Available in 4 formats to easily plug into your event:

Plenary, 2-hour, 4-hour, Multi-day

Groups up to 500

Space requirements vary
With all the changes we've experienced, more than another meeting…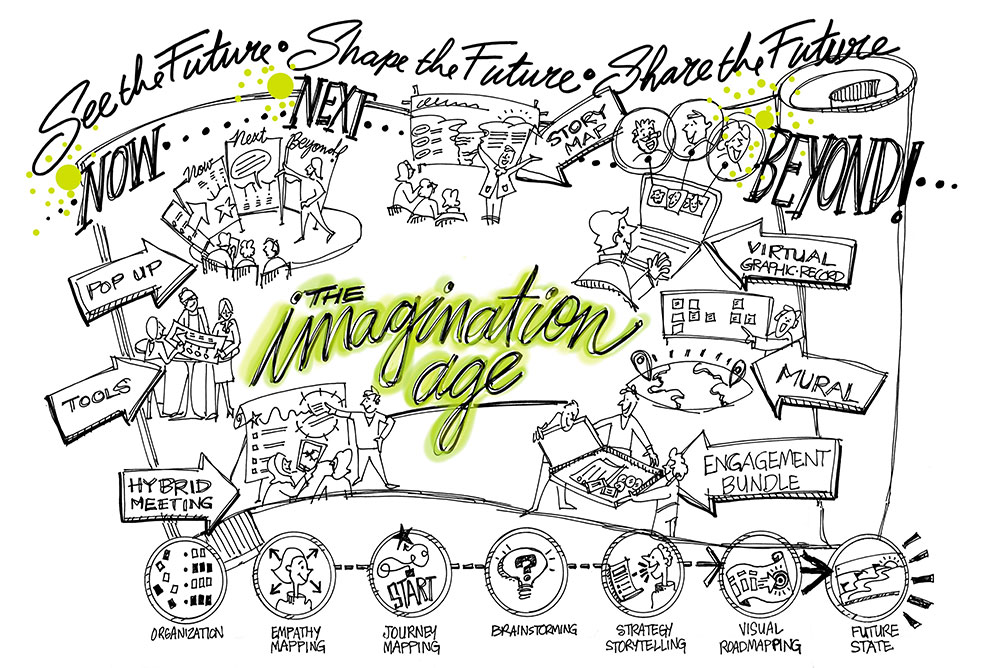 As your reimagine partner, we help you discover possibilities, explore opportunities and identify risks.
We'll also help you:

ORGANIZATION
Use fresh, agile approaches for creative problem-solving.

Empathy Mapping
Develop more deeply engaged, connected people.

Journey Mapping
Reimagine your roadmap to meet the emerging business of tomorrow.

Brainstorming
Spark creativity so you can innovate at start-up speed.

Strategy Storytelling
Align and focus your team with insights and a shared story that brings your vision to life.

Visual Roadmapping
Translate your roadmap into actionable priorities to achieve immediate results.

Future State
Visualize your picture of the future.
Every IDEA360 client engagement is unique
in its requirements and objectives.
Our comprehensive set of visualized frameworks, Storymaps, and interactive templates that can be rapidly deployed individually or combined as a customized engagement bundle to help you plan for the business of tomorrow.
Our solutions can be delivered both in-person and remotely. Contact us today to learn how we can help reimagine your organization's roadmap.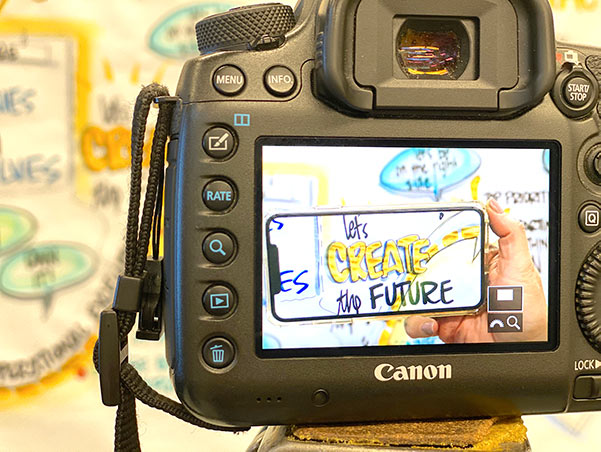 The future belongs to those who can imagine it, design it and execute it.
It's not something you await, but rather create.
MOHAMMAD BIN RASHID AL MAKTOUM
For more details on our IDEA360 Tookit, please see the following articles from the Big Picture Blog
Anya Jane didn't expect to build a business taking dogs on off-leash adventures. She was literally a rock star musician with 2
Read More